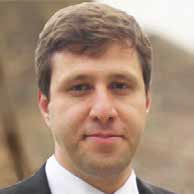 DR. AHMET FARUK AYSAN
Member of the Board, Monetary Policy Committee Member,
The Central Bank of the Republic of Turkey

Born in İzmir in 1977, Dr. Ahmet Faruk Aysan received his B.A. in Economics from Boğaziçi University in 1999 and both his M.A. (2001) and his Ph.D. (2005) in Economics from the University of Maryland College Park.He became an Associate Professor in 2008.
Dr. Aysan, who served as a consultant at various institutions such as the World Bank, the Central Bank of the Republic of Turkey (CBRT) and Oxford Analytica, has been lecturing at the Department of Economics at Boğaziçi University since 2005.
Currently, Dr. Aysan is the Deputy Director of the Center for Economics and Econometrics at Boğaziçi University, a member of the G-20 Financial Safety Net Experts Group, a member of the Advisory Board of Social Sciences and Humanities Research Group of TÜBİTAK, and a National Expert in 'Socio-Economic Sciences and Humanities' under the Seventh Framework Programme of the European Union.
Dr. Aysan's fields of specialization are international finance, macroeconomics, political economy, banking and finance, econometrics, governance and development and he is a member of editorial and advisory boards of several international journals.
Dr. Aysan, who has many articles published in academic journals, was awarded with the Boğaziçi University Foundation Publication Awards; Boğaziçi University Foundation Academic Promotion Awards and the Ibn Khaldun Prize for the best paper on the North African and Middle Eastern Country Studies granted by the Middle East Economic Association.

Dr. Aysan has been a member of the Board of the CBRT since 3 November 2011 and a member of the Monetary Policy Committee of the CBRT since 21 November 2011.