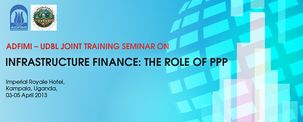 ADFIMI-Uganda Development Bank Ltd. (UDBL) joint seminar on "Infrastructure Finance – The role of Public Private Partnership (PPP)" was held at the Imperial Royale Hotel, Kampala, Uganda, 03-05 April 2013.
The seminar provided an overall picture of the PPP development process from different perspectives It considered PPPs in terms of what they could offer and what the limitations were, and the type of expert knowledge that was required to successfully develop, implement and finance PPP projects. Discussions were made on various aspects of PPP development including PPP structuring options, risk allocation principles, financing and contractual matters. In order to have a better appreciation of PPPs, it also considered case studies from different sectors involving various forms of partnerships.
The seminar also provided information on the involvement of Islamic Finance in PPP. Examples of successful PPP projects implemented buy Islamic finance were also presented.
The seminar was conducted by Br. Nazmul Haque, Director and the Head of Investment of Infrastructure Development Company Limited (IDCOL) and Br. Zakaria Bellot, Investment Officer, Public Private Partnership, Islamic Development Bank (IDB).
The seminar was inaugurated by Honourable Maria Kiwanuka, Minister of Finance, Planning and Economic Development, The Republic of Uganda.
H.E. Ahmet Melih Ulueren, Ambassador of Turkey to Uganda was also present at the opening session and made opening remarks.
The seminar was closed by Honourable Aston P. Kajara, Minister of State for Privatisation, Ministry of Finance, Planning and Economic Development, The Republic of Uganda during a gala dinner when certificates were delivered to the participants.
There were 56 participants.
Click here for photos Click here for presentations:
by Nazmul Haque
by Zakaria Bellot
Date : 19 April 2013